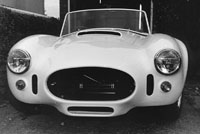 Front lights ~ 30kb Just finished fitting the front lights and indicators.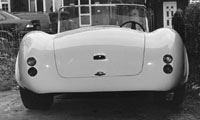 Rear lights ~ 30kb With the rear lights fitted it is starting to look like a car.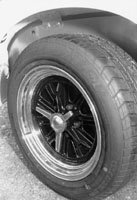 Front wheel ~ 37kb Once the Halibrand replicas where in place it really made a big difference to the look of the car. From this angle it is easy to see the aluminium inner wings.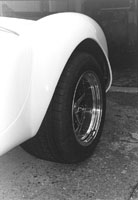 Rear wheel ~ 28kb The rear wheel nicely fill the wheel arches - it's certainly worth the extra money buying the larger wheels and tyres.

Roll hoop holes ~ 15kb It was difficult to cut the roll hoop holes accurately. So I found I had to use some aluminium mesh and some filler to make good the larger holes I'd made.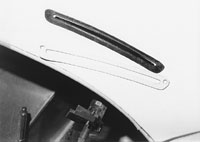 Demister vent ~ 30kb Jill made up a template so I could get an accurate position on the demister vents. I wanted to make sure they ran parallel to the windscreen, plus they must be central with the same space either side of the centre line of the car.