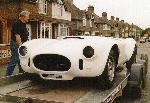 Cobra on trailer ~ 49kb
John from Crendon organises the removal of the car from the trailer. Whilst I took the photos.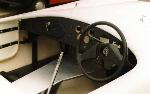 Cockpit area ~ 18kb
Shame about the Vauxhall steering wheel, but you need something to steer with!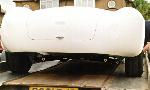 Rear view ~ 22kb
A view that will be all too common for other motorists, hopefully. And I don't mean the car on a trailer! It's a pity about those skinny slave wheels they make it look a bit like a Citroen 2CV.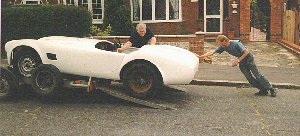 Coming off the trainer ~ 105kb
Easy, easy, easy does it......My friend Mark and John from Crendon doing all the hard work while I lounge around with a camera in my hands. Well someone has to record these historic events don't they.