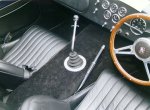 Carpets finished ~ 72kb
In a team effort of Jill, my wife, Helen, my sister and me we completed the carpets. And dam fine they look too. Funny thing is they make the car run quieter too - less road noise I presume.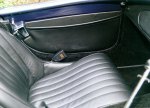 Door panels inside view ~ 114kb
The detail in the upholstery can make a difference in a car. The detail in the edging and the flow of the carpet really makes one car stand out from another. As most people head straight for the cockpit area it's usually the first thing they see. So it has to be right.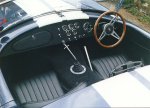 Seats ~ 60kb
I like this view of the Crendon. It's has a typical appearance and layout of an old car, which is what I wanted to achieve.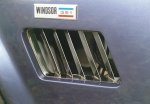 Side vents ~ 53kb
The wing vents are made from stainless steel and John hates making them as the are pigs to make. About 3 hours work goes into making a pair. Still they do look the part.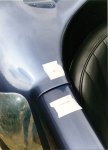 'Lift the Dots' placement ~ 44kb
Here I was just starting to lay out the position of the Lift the Dots. This was easier than I thought it would be. But I didn't have the courage to drill the holes yet. I'll leave that till next weekend and check my layout again before metal touches paint.