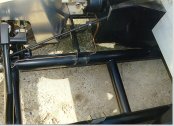 Chassis ~ 90kb
This is a shot looking in the engine bay. The aluminium inner wings and brake lines are clearly visible together with the twin tubes of the chassis.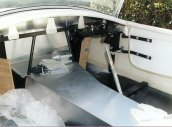 Cockpit ~ 78kb
More aluminium is used for the transmission tunnel and front bulkhead. Note the original style handbrake lever against the tunnel.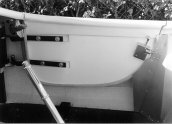 Door ~ 60kb
There is more panelling, yes you guessed it in aluminium, used around the bottom of the doors but I've not fitted it yet.
Heater ~ 116kb
This is the heater. It's from a Triumph Spitfire and once it's cleaned up it should do the job. The Spitfire heater has metal demister vents that sit on the dashboard under the windscreen and once they have been painted the same colour as the car they will blend in. I didn't want chrome vents because I felt that they distracted from the simple look of the car.

Air intake ~ 35kb
I've done a bit of filing and sanding around the air intake area, but I think it still needs a little more material taking off to slim down the thickness around the intake - still looks a little chunky to me.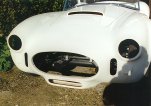 Nose ~ 62kb
I smoothed off the openings at the front of the car. They needed a bit of sanding and filing to get them smooth and symmetrical. On the left hand side of the main opening there is an air bubble under the fibreglass (you can just see it in the photograph) so I chased it back to solid material. The hole will be filled when it goes to the paintshop. The paintshop you choose won't necessarily make sure all the panel gaps are accurate and that any small detail curves and openings are the way you want them. Better to do this yourself to your liking before it is sprayed than think that the paintshop will do it for you.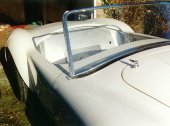 Windscreen ~ 69kb
I 'G' clamped the windscreen in place because I'm not happy the way the rubber trim sits on the contours of the bodyshell. There's about 5-10mm gap under the rubber on the drivers side. I need to move the screen back a bit towards the cockpit area and take the rubber strip out of its groove and turn it over. Where the windscreen has been packed and stored the rubber has become slightly bent, so turning it over helps it to sit flush against the body.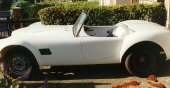 Side view ~ 68kb
A quick photo of the side of the car. It doesn't look too pretty here, especially with the slave wheels on it. Looks much better now I've put the Halibrands on.