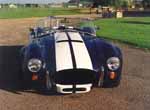 Pictured on 27th October 1999 ~ 87kb
As you can see from the weather it was a lovely day and I decided to take some photographs of the car before it went for its SVA inspection. Rear view mirror was used to pass the SVA test as it had to be 'E' marked. This will be replaced for a mirror mounted on the panel above the dashboard.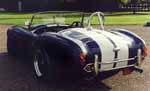 Rear and side view ~ 173kb
I took this from the wrong side really because half the car is in the shadows and I didn't have my flash with me so I couldn't use it to fill in the shadows. You'll notice the rear fog light that I had to put on to pass the SVA. Like the mirror it had to be 'E' marked too.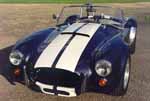 Front view ~ 174kb
Once the car is registered I will order some black and silver number plates for it to give it a more authentic look. The rear view mirrors have to be mounted up this high in order to comply with the SVA regulations. It is strict on what you can see out of the mirrors and that only a certain percentage of the mirror can be blocked by bodywork. So in order that you don't just see rear wheelarch in the mirrors they have to be mounted up the pillars on the windscreen. AC Cars are now also supplying their cars like this.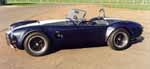 Side on shot ~ 133kb
A few detailing items are still needed to complete the car. Like wing vents in the front wings. The spinners on the wheels had to be removed to comply with the SVA regulations.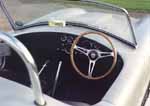 Cockpit ~ 144kb
John at Crendon had just completed a build for this car. It was a one off special for a customer. It's an aluminium bodied car on one of John's chassis. It has a 427 engine in it and it sounds and looks the business. The customer wanted it to be as near to the original as possible - money and time no object.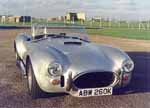 Aluminium car ~ 205kb The customer is going to run around for a while with it unpainted to let the aluminium settle then it's going to be painted. I understand it will be the same colour as mine. The detail is superb even down to the knock off spinners on the wheels and the headlight stars.